October 4, 2023
Intro to 2023 Physical Therapy Marketing Strategies
Traditional marketing has changed with the rise of social media. It's given brands, organizations, and businesses an easy and personal way to interact directly with customers, building real and meaningful relationships. In fact, the power of effective advertising holds true for physical therapy marketing too!
When it comes to healthcare providers, it's crucial to establish an engaging communication base with potential patients online. This is the first step in building that all-important connection.
Physical therapists (PTs) should strive to establish themselves as trusted and genuine healthcare providers within their community, and one effective way to begin is by establishing a solid presence on social media.
But where to start, and how can you be successful with it? We'll show you the crucial first steps to make your social media an asset for business and marketing growth.
- Understanding the Target Audience
- Choosing the Right Social Media Platforms
- Creating Engaging Content

Physical Therapy Marketing Strategy #1: Understanding the Target Audience
Identify the target audience for physical therapy marketing
Before diving into paid social ads, campaigns, or KPIs (key performance indicators), it's important to have a solid understanding of your ideal marketing physical therapy persona.
Here are a few questions before heading into your PT marketing strategy on social media.
- Age range: Which demographics are you targeting for your PT clinic?
- Their challenges: What makes them interested in researching services you provide? Is it for pain management, muscle strengthening, or rehabilitation after surgery?
- Location: Do they live in a specific community, city, or rural region?
- Payment: Do they have any particular insurance or payment preferences? How do they want you to handle their billing?
By figuring out who you're trying to reach, you can tailor your messages and services to meet their unique needs better. This includes people from different socioeconomic backgrounds and specific income ranges.
The importance of understanding their needs, preferences, and online behavior
In 1996, Bill Gates coined a phrase that became a game-changer for marketing: "Content is King." It's the driving force behind audience interaction, engagement, and connection with your service.
PT marketing tips on creating buyer personas to tailor social media content accordingly
Insights from new patients: You can ask questions about their social media activity through intake forms to understand where to focus first. (PtEverywhere has dozens of templates to get started on this.)
Analyze competitors: Analyze local competitors' social media presence. Learn from their effective physical therapy marketing strategiesto engage the audience. Observe their content, tone, and approach in addressing buyer frustrations. Be inspired by their approach and identify content gaps to leverage in your content.
Regularly review and update personas: Buyer personas change over time, so stay tuned in and actively listen to your patient's needs. This way, you can keep your content relevant and, in turn, keep your PT practice up to par with the services they desire.
Here are some ideas to help you establish your buyer persona for your practice and how that information can assist in developing your social media plan. Take your time to understand your audience truly. The more you know about your patients' social behavior, the more likely they'll respond positively to your content.
Physical Therapy Marketing Strategy #2: Choosing the Right Social Media Platforms
The social media platforms available and their suitability for physical therapy marketing
Regarding social media platforms, one thing's for sure - there are plenty to choose from! Platforms like Facebook, with almost 3 billion monthly users, and YouTube, with over 2 billion monthly users, offer fantastic opportunities to spread your message, find potential clients, and boost brand recognition.
But this also means there are a bunch of competitors out there, all trying to grab your audience's attention. So, finding the social media platforms that work best for you as a PT owner is crucial. Focus on reaching as many people as possible and finding potential patients.
Choosing the right platforms based on the target audience and marketing goals
This is where the super crucial buyer persona research comes in. Detailed info about your target audience will make this step a breeze.
Let's look at a few examples:
Facebook: If your target audience consists of Gen X or Millennials, this platform would be an excellent investment of your time.
Instagram: If you aim to capture the attention of Millennials or Gen Z, Instagram is the ideal platform to focus your content on.
TikTok: If you want to engage with a younger demographic, TikTok is worth exploring.
Your PT audience is active on multiple platforms. However, if you're new to social media marketing for physical therapy, start with one where your persona is most likely to be found. Putting all your energy into that platform is key. Starting with too many platforms can be overwhelming and lead to burnout.
Physical Therapy Marketing Strategy #3: Creating Engaging Content
Tips on how to create compelling content that drives engagement
As a physical therapist, your main passion is caring for and forming connections with your patients. It's understandable if you have concerns about getting into social media marketing, but here's the thing: You don't have to be an expert in marketing for physical therapy.
Start small and easy with these tactics:
- Provide valuable information: prioritize educational content. Sharing information about health issues that may affect clients and consumers can be highly appreciated. For instance, PTs can discuss the significance of HEP, the advantages of regular PT visits, or body anatomy. Utilizing a short and bullet-point format ensures clarity and brevity.
- Consistency: PTs who are marketing for physical therapy using social media can vary their posting frequency. Larger clinics can aim for daily or every other day posts, while smaller ones can aim for at least once a week for new PTs starting. Posting once a month is a good starting point. Just remember: consistency is key!
- Authenticity in your interactions: Platforms love user engagement! By commenting and genuinely engaging with people who interact with your posts, you can boost your visibility and make your audience feel like they're getting a personalized interaction.
As an expert in physical therapy, you've got tons of interesting content to share. Just remember to keep it genuine. Your social presence must be credible and not come across as automated.
PTs On Social Media Can Be Social Butterflies, Too!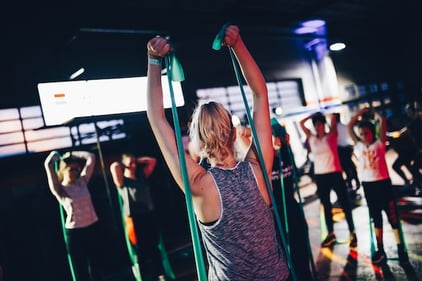 Marketing is an essential aspect for any business aiming to expand its presence, which also holds for healthcare practices. Social media is one of the best marketing ideas for physical therapy for growing connections within your local community. For PTs, it serves as an organic means to expand your audience and enhance brand awareness.
Remember to do appropriate research, share reliable and educational content, stay consistent, and stick to yourself. Social media should be a great asset to your physical therapy marketing plan.
To learn more about PtEverywhere for 2023, book a demo or check out our media center for more therapy tips and tricks!